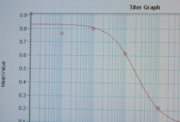 "NeoClone's approach to bioinformatics helped us design a project using peptides that lead to the development of some very specific antibodies to the native target."


Tom Holtzman, PhD, V.P. Research, Protein Science, (retired) Nanosphere, Inc.
Bioinformatics
We believe that all successful projects start with great project design. This is where we excel. Using our NeoAb® bioinformatics approach, we help clients define a project that has the best chance of success in making antibodies that will meet their needs - in terms of both specificity and sensitivity.
In addition to some basic information needed from our clients (protein sequence, desired end use of the antibody), we help determine:
Are there antigenic epitopes?

Are there accessible regions on the antigen that are suitable for antibody binding?

Where is the antigen localized?

Is the endogenous target post-translationally modified?
Based on the answers to these questions as well as others, we can design a project approach to minimize the inherent risk in antibody development, while at the same time increasing the chances of developing highly specific & sensitive antibodies of interest.
Because NeoClone is adept at both antibody phage display technology AND traditional hybridoma technology, we can help you decide which approach will work best for your needs.
Do you have a target of interest to which you would like NeoClone to apply its bioinformatic approach?  Please contact us to begin the process.